Big Ben Wallace won a NBA Championship with the Pistons during the 2003/2004 season and made his presence felt by rebounding, defense and leadership.
The Sophisticated Gent, Basketball Aficionado!
Source, SLAM Magazine BY RYNE NELSON NOVEMBER 19, 2020
As a junior in high school, a 16-year-old Ben Wallace spent day after day cutting hair for his friends and neighbors. He charged $3 a cut, eventually saving up enough money to attend Charles Oakley's week-long basketball camp.
With $50 in his pocket, Ben left his 800-person town of White Hall, AL, and traveled over 100 miles west on Route 80 to Oak's camp. While he was an impressive multi-sport athlete, Ben had never spent time in an organized basketball setting where the focus was on skill and development.
As luck would have it, Wallace would not only get a chance to meet Oakley—who just finished his fifth straight season in the NBA averaging a double-double—but Oak challenged Ben to a game of one-on-one.
"He took an interest in me," Wallace says. "I guess he saw something in me that I really didn't see in myself at the time. He sort of called me out in front of the camp and put me on display."
As the 10th of 11 siblings and youngest of eight brothers, Ben didn't back down from a challenge. Oak had at least four inches and 50 pounds on Wallace at the time, but Ben took everything Oakley threw at him. Football was Wallace's passion, and he welcomed Oak's bruising style of play.
"He showed me how physical the game of basketball can really be," Wallace remembers. "He showed me a way that I can bring that football nature to basketball, and I took it from there and ran with it."
The battle of brute force had the rest of the campers in awe and disbelief. Wallace, a raw and athletic teenager, was holding his own against a 27-year-old NBA strongman. The sparks would eventually settle, but neither player could claim victory.
"It wasn't going to be no winners," Ben laughs. "It was going to be a fight before there was going to be a winner or loser."
After the camp, Wallace and Oakley exchanged numbers and kept in touch. During his senior season, Ben sustained a serious neck injury while playing football, and doctors advised him to hang up his cleats for good. So Wallace decided to direct his energy toward basketball, but his college offers were for football. He turned to Oakley for guidance, and Oak placed a call to his former coach at Virginia Union, Dave Robbins.
"I would always ask Charles, I'd say, Charles, if you run across a young fella that can play, let me know," Robbins says. "Charles never recommended a player. Never would recommend me a player.
"So one day… I get this call, and he said, 'Coach, I think I might have you a player.' I always ask Charles to find me a big man, a post player. I said, 'Well, is he a big man?' And Charles says, 'Well, he's not real big, but he sure is a man.'"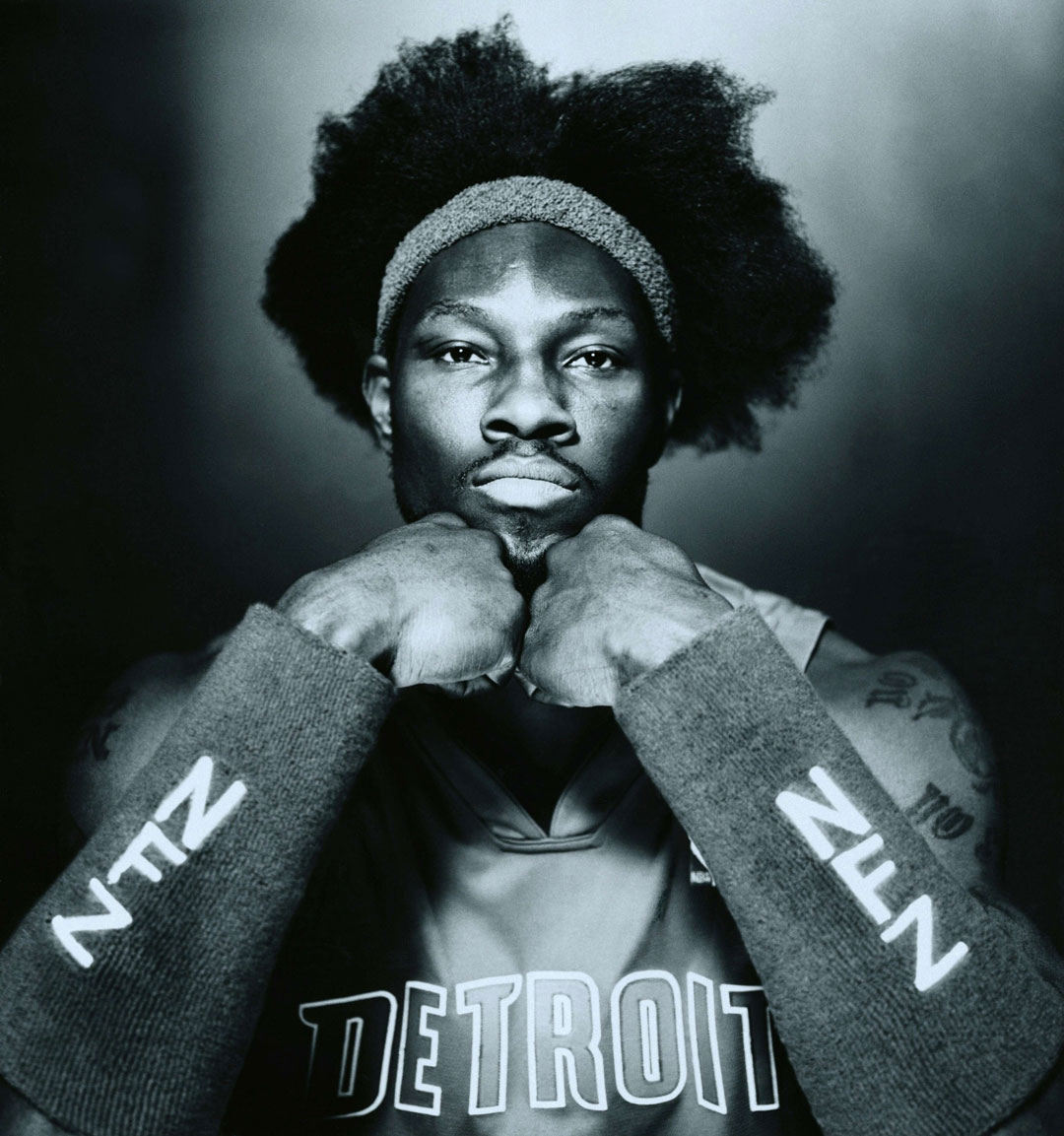 According to Robbins, Ben didn't have the SAT scores to play at Virginia Union right out of high school. So Oak called his good friend Geoff Warren who coached at Cuyahoga Community College in Cleveland and arranged for Ben to play there.
Wallace took his game to another level at Cuyahoga. He learned how to think the game, how to be effective without the ball. After putting up gaudy numbers during his freshman season, Ben spent his summer working at one of Oakley's car washes and honing his game against pros in the Cleveland Pro-Am. Oakley and Clippers guard Ron Harper were regulars, along with a number of overseas pros.
Word quickly got out about Wallace's stellar play, and a number of Division I programs began vying for a commitment from Ben. He ended up signing with McNeese State but was unable to transfer because he hadn't completed his final semester at Cuyahoga.
Persistent from the start, Virginia Union—a Division II school—became the obvious choice. Everything clicked as soon as Wallace hit campus. An instant fit with the team, Wallace led the Panthers to regular season and conference tournament titles and was named the CIAA tournament MVP.
"He came in and was an instant star," Robbins says.
Now firmly on the NBA radar, Ben knew that scouts would be watching him carefully during his senior season. Wallace and a number of his teammates decided to stay in Richmond that summer to work on their games. Ben would lead the team through daily workouts in the weight room. At the time, Virginia Union didn't have the wherewithal to support the players over the summer, so they pooled money and survived on pizza.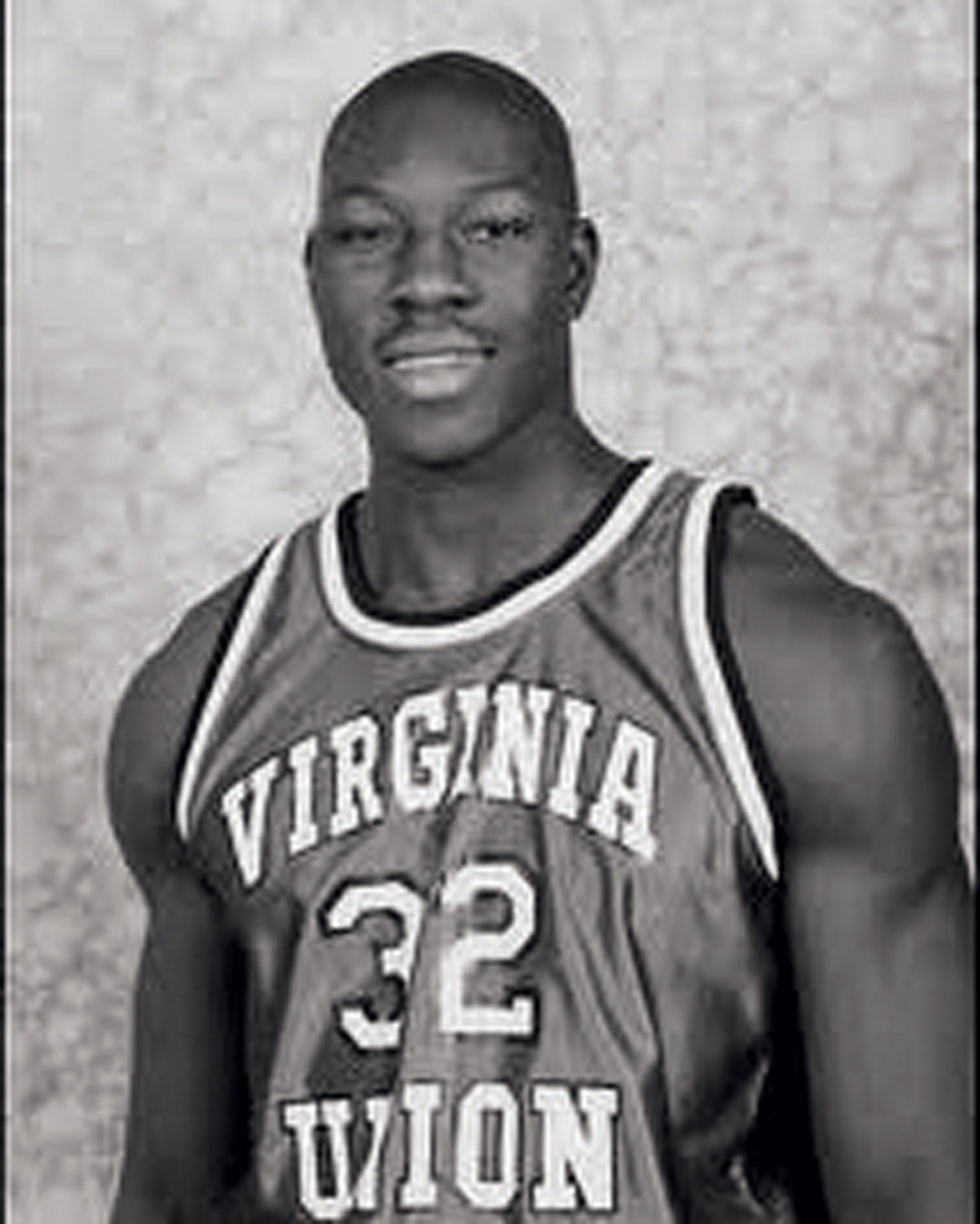 The work paid off. Wallace was transcendent, blocking shots deep into the stands and dunking the ball so hard that the basket would shake. As a senior, Wallace led Virginia Union to the NCAA Division II Final Four and was selected as a NABC Division II First Team All-American.
"I felt if you put Ben in an NBA game, he could do what he do," says Jay Butler, Wallace's college teammate and current coach at VUU. "He had a knack for rebounding, a knack for defending, running the floor. Those things translate to the NBA game. He just needed an opportunity."
Only the Celtics invited Ben for a workout before the 1996 NBA Draft. Boston's head coach at the time, ML Carr, insisted on playing Wallace on the perimeter during that workout because he thought Ben was too small to mix it up in the paint.
Unsurprisingly, Wallace was not selected in the draft, but that didn't deter him. All he needed was an opportunity. He joined the Celtics for Summer League, but again, Ben's talents didn't shine as a wing player. With his options looking bleak, Ben spent three weeks with Italian club Viola Reggio Calabria before getting a call from Wes Unseld, who was the general manager of the Washington Bulletsat the time.
An undersized center during his playing days, Unseld understood that Wallace played much bigger than his size. "When I got to camp, Wes pulled me into the office and basically told me, I got a lot of guys that can score the ball. But I need somebody who's out there who ain't afraid to mix it up in the paint, rebound the basketball, protect the rim, and not afraid to knock somebody on they ass if they come through the lane."
Say no more. He put his hard hat on and earned a contract to play with the Bullets. And in true Ben Wallace fashion, he outworked his teammates into more and more playing time.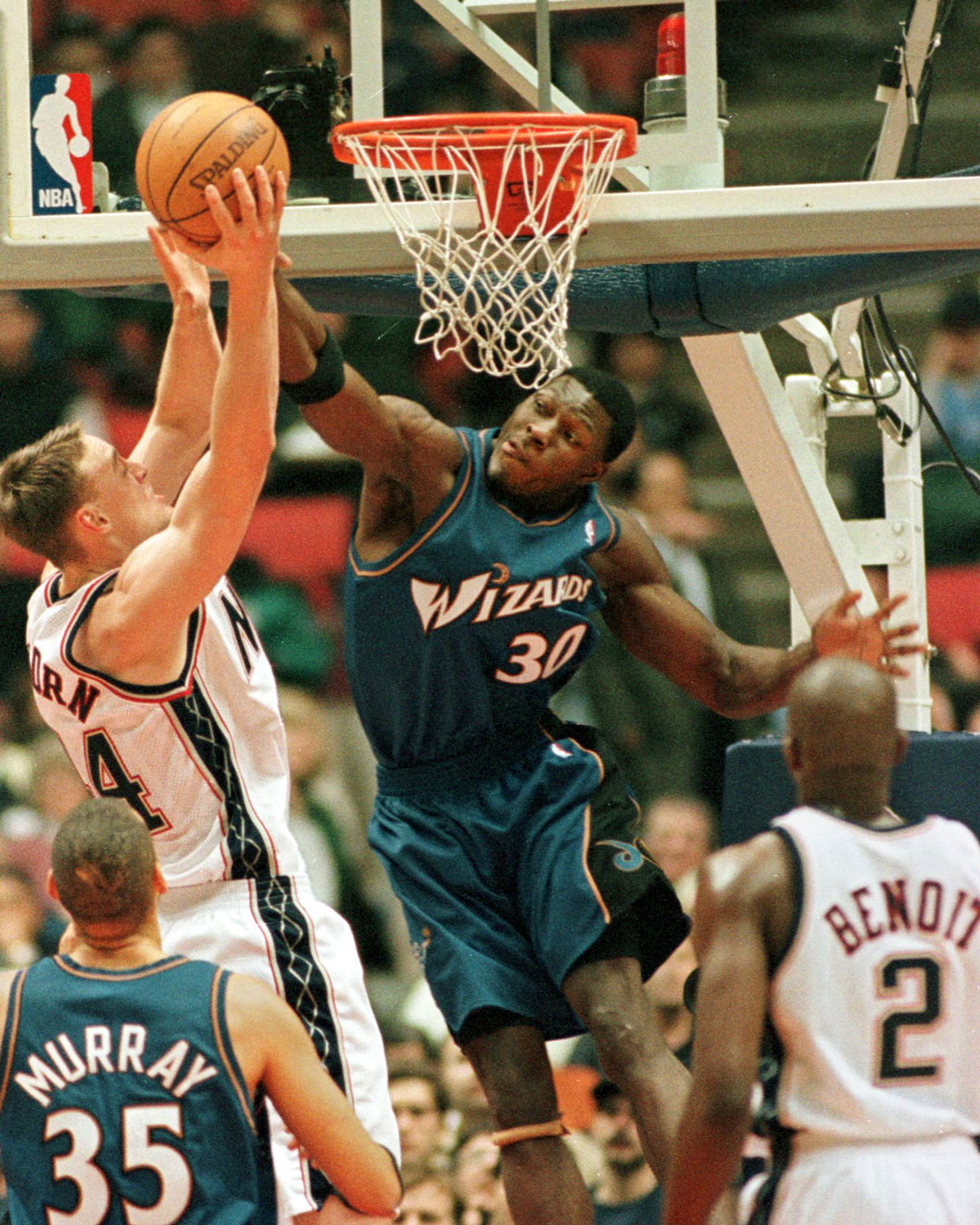 "I felt like after I had earned that spot, the rest was up to me," Ben says. "My destiny was in my hands. I just felt like I just had to go out there every day and bring the same type of energy and bring the same type of work ethic that I brought from Day 1."
He went from appearing in just 34 games his rookie season to appearing in 67 games and starting in 16 by his second year. By the lockout-shortened '98-99 season, Ben had solidified himself as a key part of the rotation, playing over 26 minutes a night.
"Speak softly and carry a big stick—that was Ben Wallace," says Ben's teammate in Washington, Darvin Ham. "Never boasted, never bragged, never talked shit. Never did none of that. He just came to work with his lunch pail, put his hard hat on and went to work."
The following year, Wallace was sent to Orlando, where he became a full-time starter for Doc Rivers. After a season with the Magic, Wallace was traded to Detroit. The Motor City would be his home for the next six years as his career finally took off.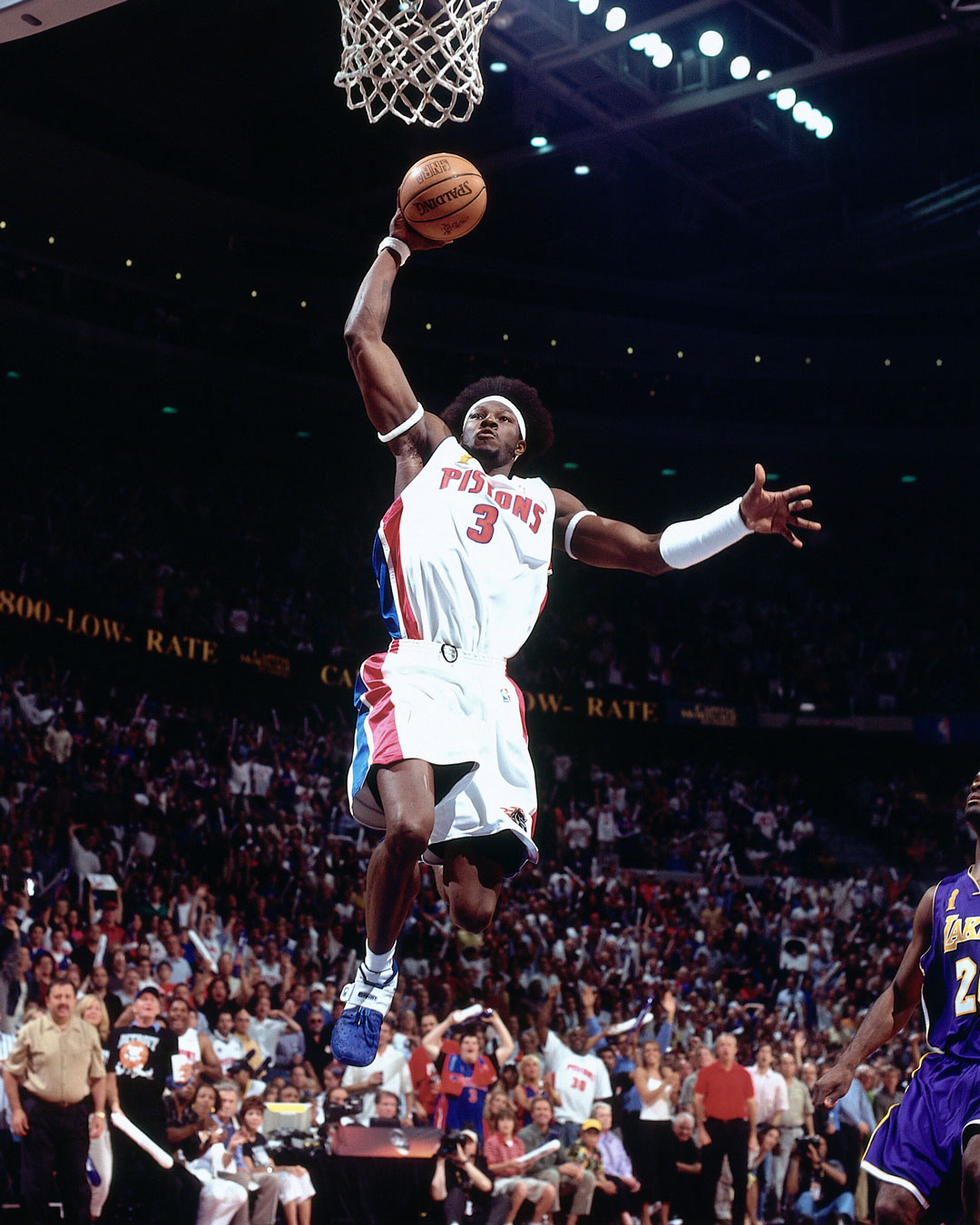 Wallace became the anchor of the beloved Pistonsteam that won the NBA championship in 2004. Ben valiantly guarded Shaquille O'Neal one-on-one throughout much of the Finals and held his own. As a Piston, Wallace claimed four Defensive Player of the Year awards and five All-NBA selections. He's now widely regarded as the best undrafted player ever and one of the greatest defensive players of all time.
It all started with an opportunity. Ben went to work, and the results speak for themselves.